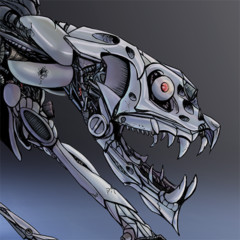 Robert Garcia
Concept / Production / Storyboard Artist
Everett, United States of America
Summary
I'm a production artist - academically trained in graphics development and creative design.
I'm not after a senior cover art illustration position like 90% of your applicants - I'm looking for useful jobs doing props, character/item breakdowns, orthographic breakdowns, or visual story telling via storyboarding. I want to be a production artist that works in a useful pipeline. I can also work in 3D and with 3D modelers - I know Maya and use Zbrush. I want input from an Art Director and I can handle revisions! I know it is all pipeline based - I'm prepared for that type of environment.
Thanks and I hope to hear from you!
I'm looking for jobs in:
-Concept Design / Production Art: Orthographic Breakdowns, Character Design, Prop Design, Environment Art.
-Storyboarding & Animatics
and can also assist in:
-Graphic Design (Logos, Prints, Etc.) and UI, UX.
Skills
Concept Design
Concept Art
Prop Design
Character Design
Storyboarding
Animatics
Environment Design
2D Animation
Digital Painting
Graphic Design
Software proficiency